Experience Design
We work collaboratively with our clients to build one-of-a-kind media experiences that fit seamlessly within the physical space. Our holistic design approach brings storytelling to the forefront of the exhibition by utilizing creative and innovative media techniques. The key aspects of our work is to gain a clear understanding of the exhibit content and educational goals so we can design activities that best utilize media and technology, create inspirational "wow" moments that engage and inform visitors, and offer a variety of experiences that appeal to a wide range of ages and knowledge levels.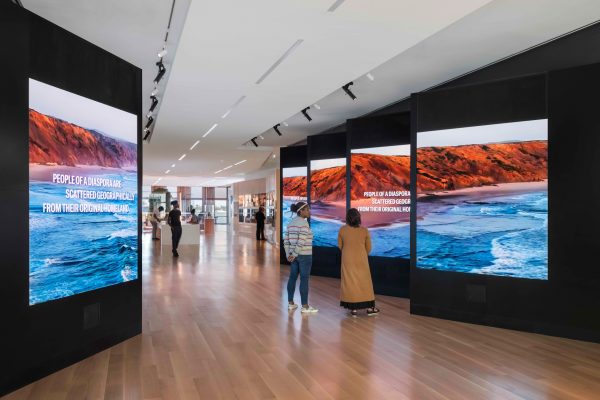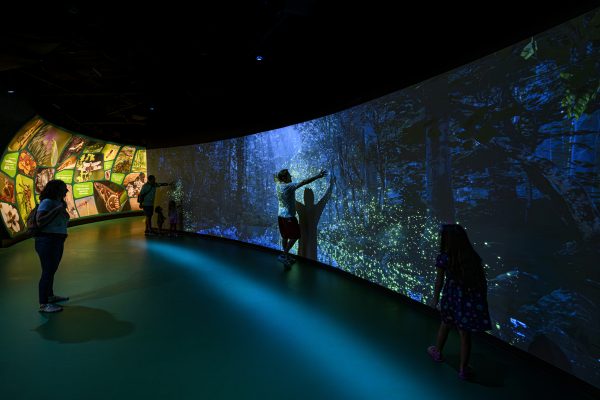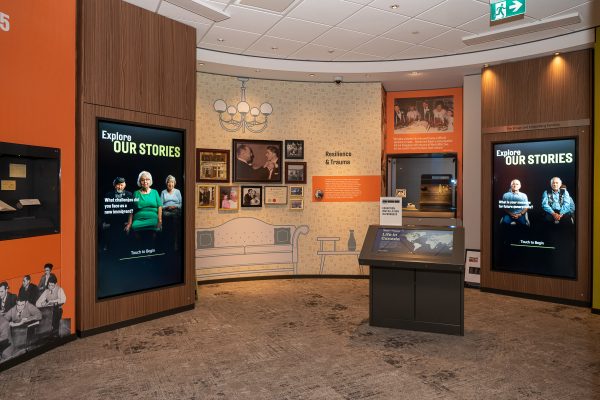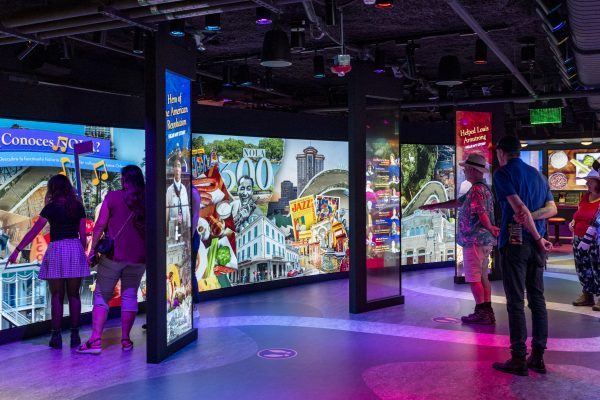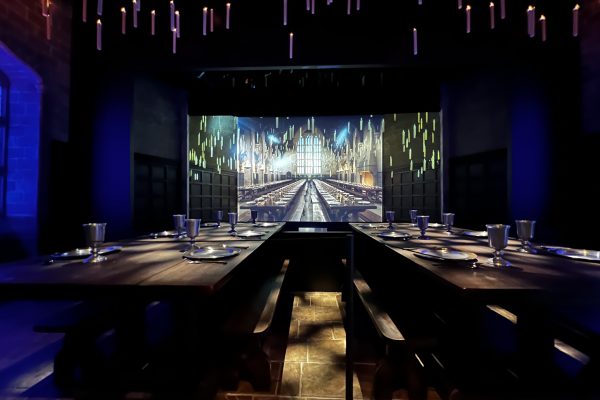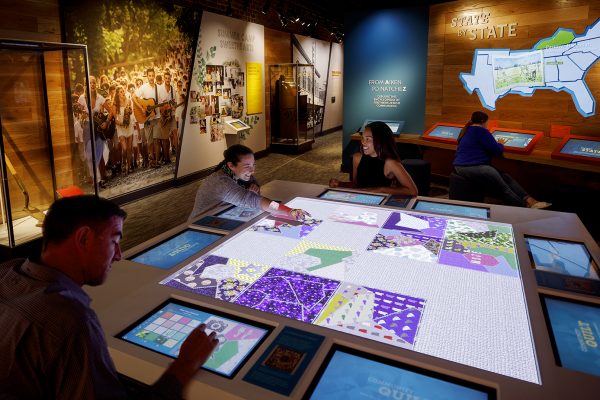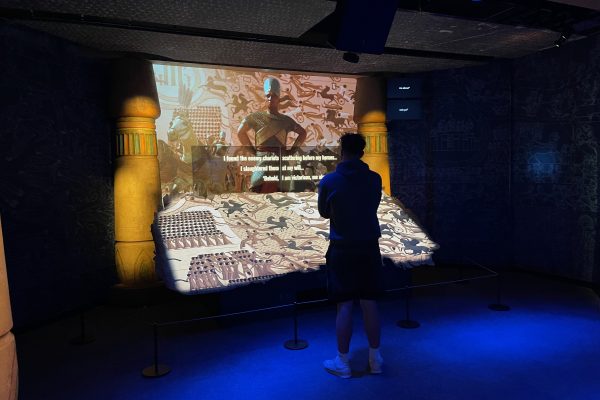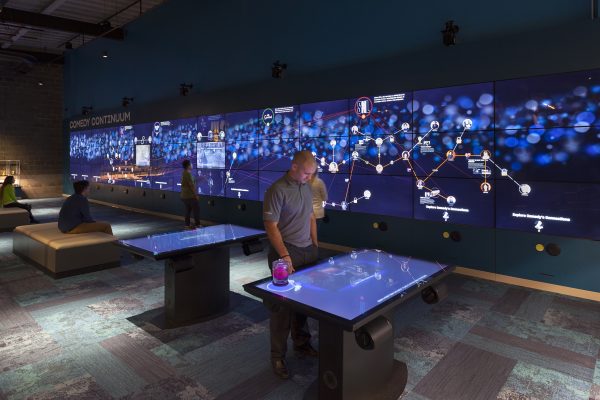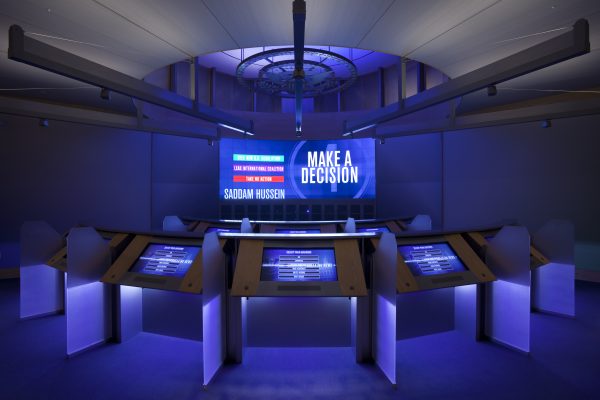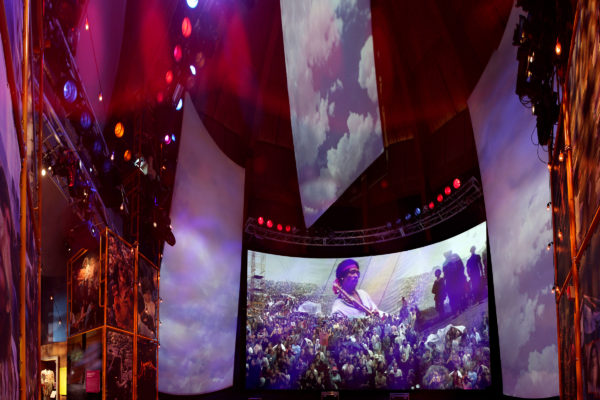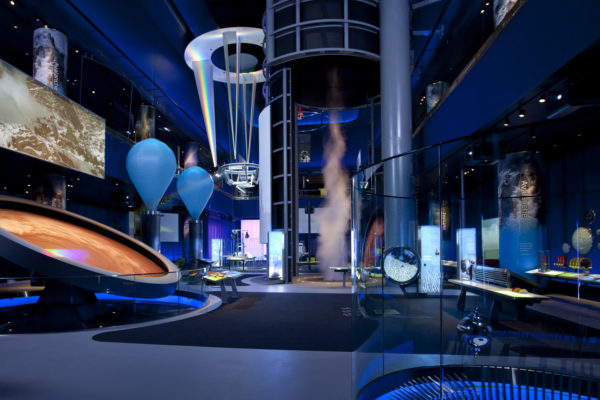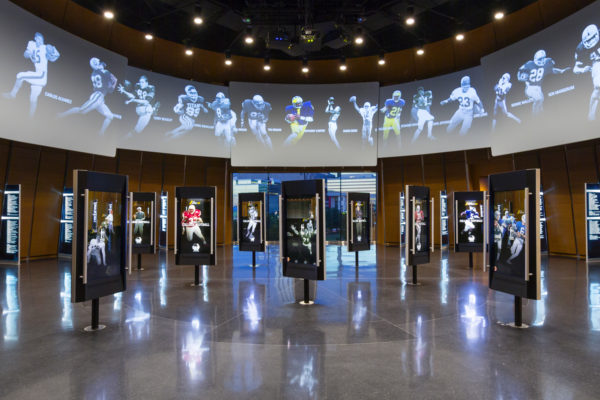 Augmented, Mixed, and Virtual Reality
Our Augmented, Mixed, and Virtual Reality (AR, MR, and VR) experiences provide visitors with opportunities to learn and engage with content beyond their physical environment. At the edge of this revolution in experiential technology, Cortina Productions has delivered acclaimed, immersive AR, MR, and VR experiences that enhance, augment, and immerse visitors in exhibition content. Our AR, MR, and VR experiences range from AR experiences that place visitors alongside historical characters and professional athletes to complete VR environments, as well as using the Microsoft HoloLens to overlay mixed reality content on large-scale artifacts and architectural spaces. Some of the AR, MR, and VR technologies we are currently developing include:
Virtual Reality animation and live-action environments
Large-scale augmented displays
Microsoft HoloLens, Mixed Reality headset experiences
Tablet-based Augmented Reality
Mobile Apps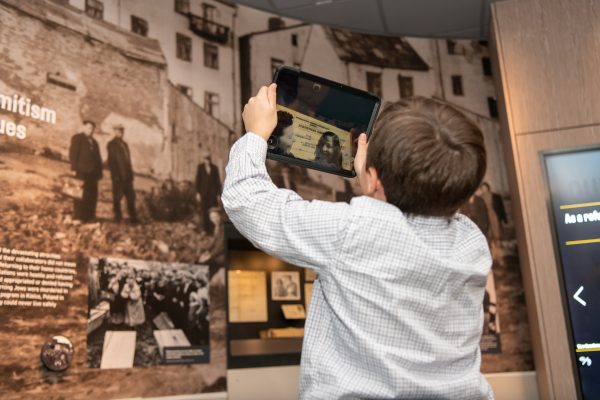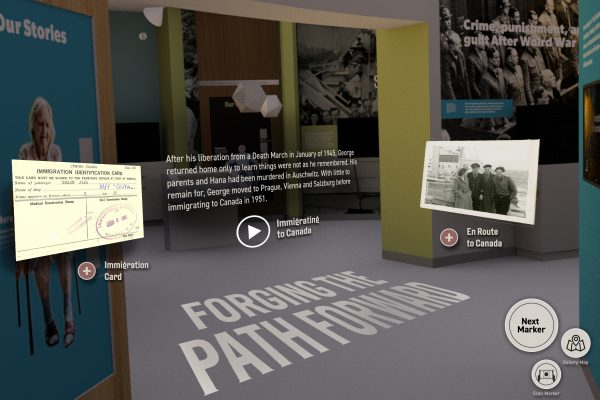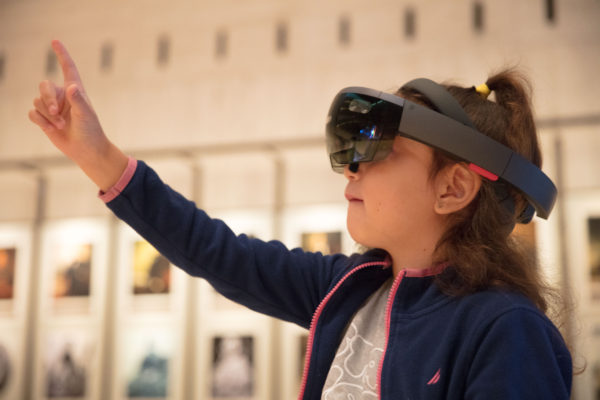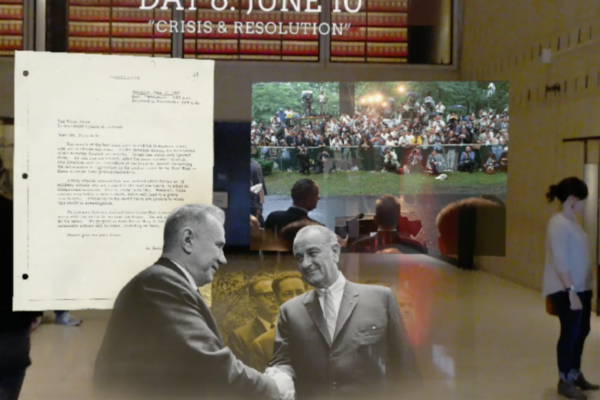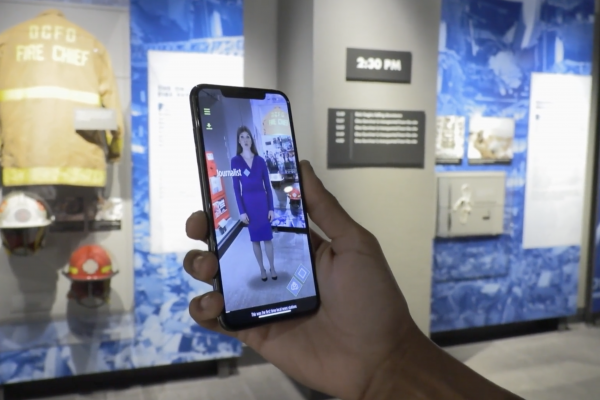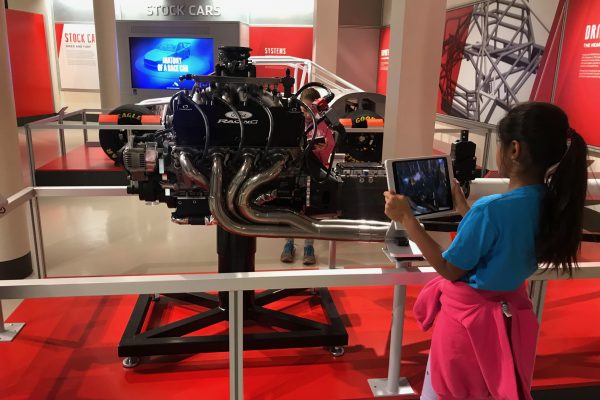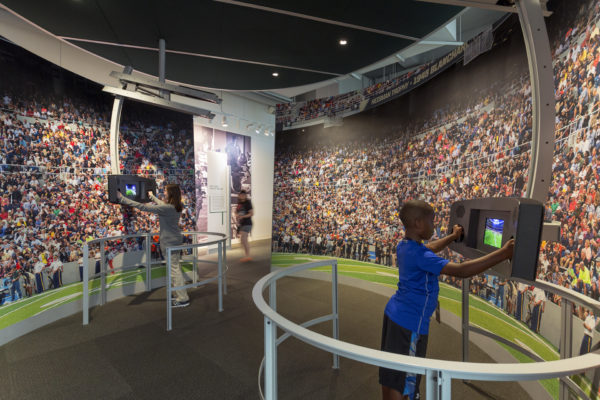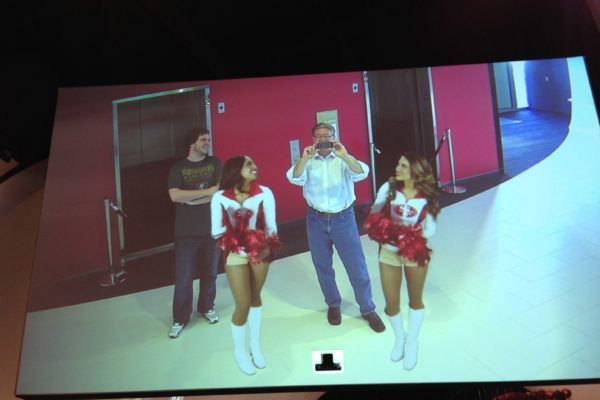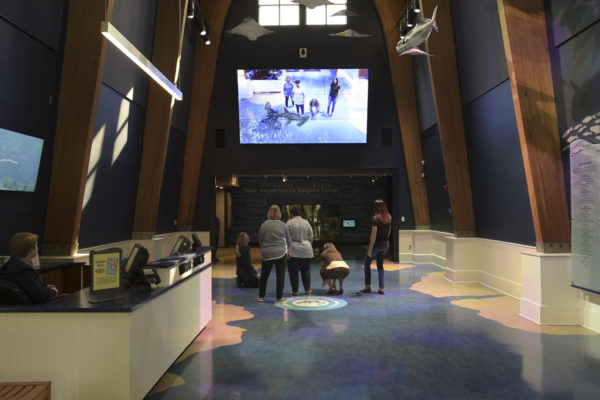 Interactive
Our interactive experiences range from mobile apps to large-scale multiuser interactive tables and theaters as well as gesture-based interactive walls. Each designed to fit the specific needs of the exhibition; we have worked with presidential libraries, natural history museums, aquariums, and professional sports teams. Some of the interactive technologies we are currently developing include:
Live data feeds and data visualizations
iBeacon and advanced wayfinding technology
Holograms and transparent screens
RFID systems and object recognition
Physical interfaces that control digital experiences
Full body interface control
Projection mapping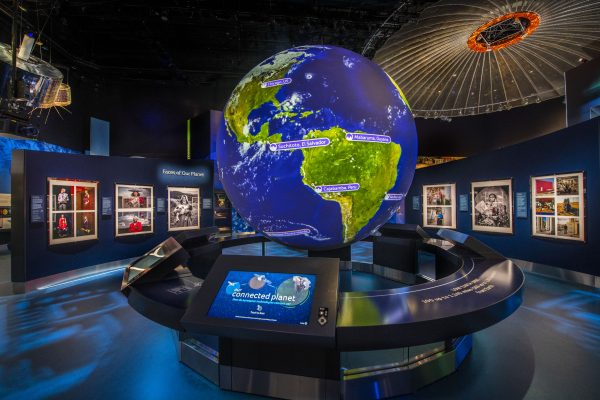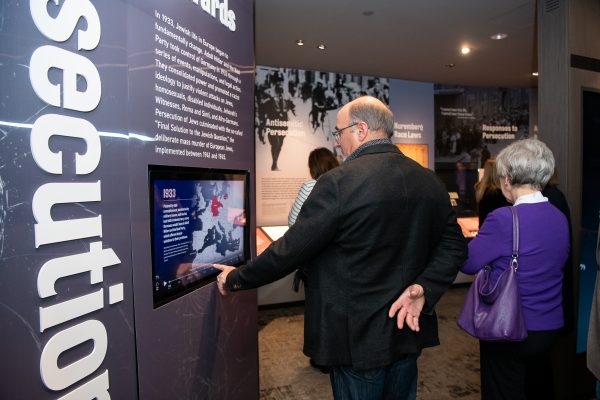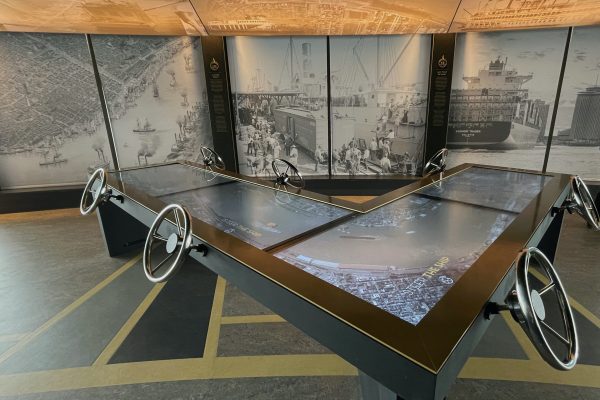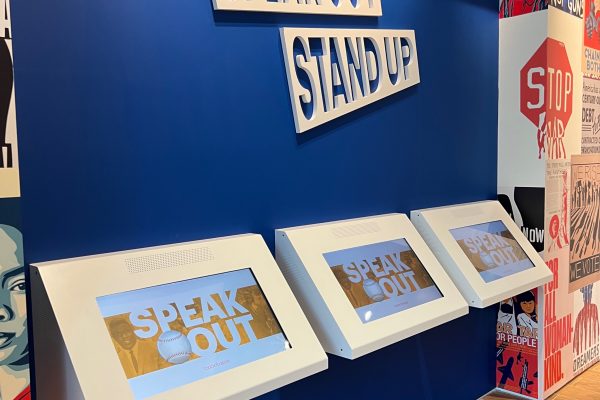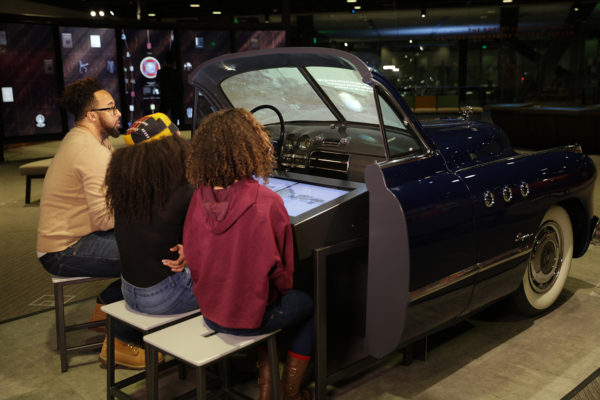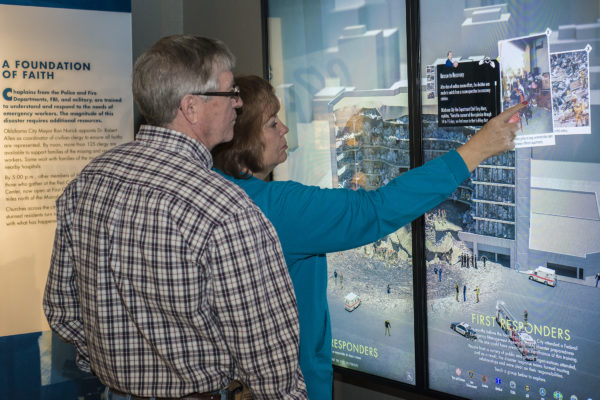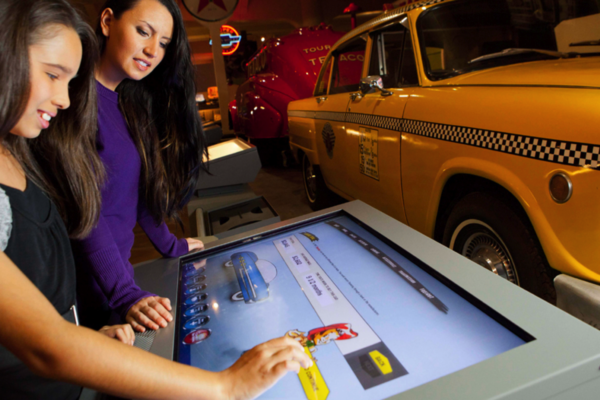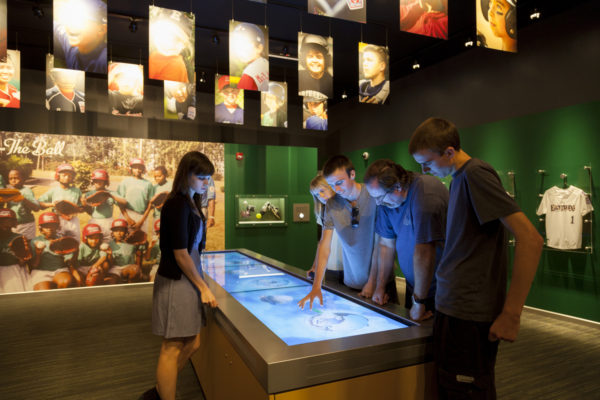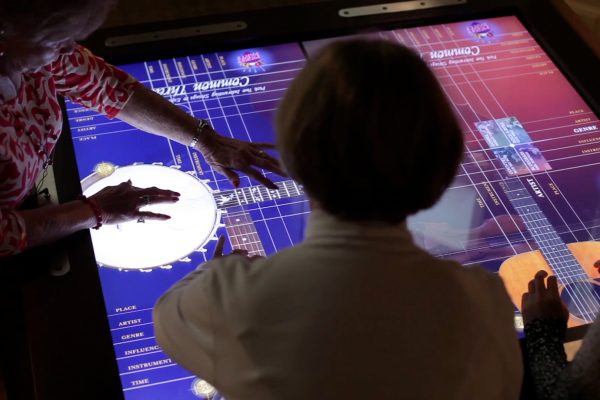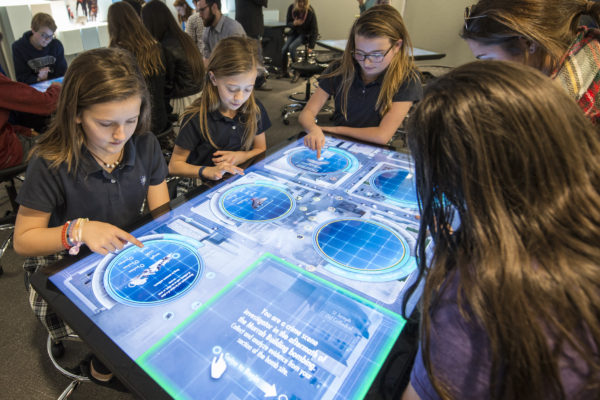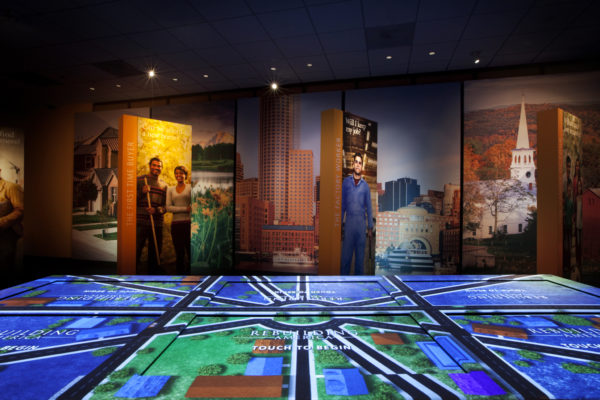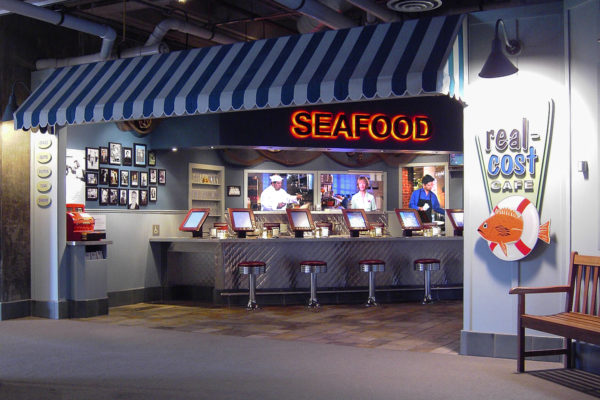 Films
Our films range from classic theater presentations to immersive multiscreen environments with 4D effects. Distilling key historic events into short film presentations requires many skills, including a comprehensive knowledge of the topic at hand, the research skills to unearth smaller stories that offer unique angles, the ability to design motion graphics that enhance the story, and the understanding of new technologies that can be used to offer a dynamic museum experience that evoke the emotions within the story. We employ an expert staff of producers with the necessary experience to create accurate historical recreations and CGI, we know how to take complex historical events and capture the emotions they evoke, and we are skilled at treating archival footage and interviews in unique ways to create productions that are highly artistic and appealing to a contemporary audience.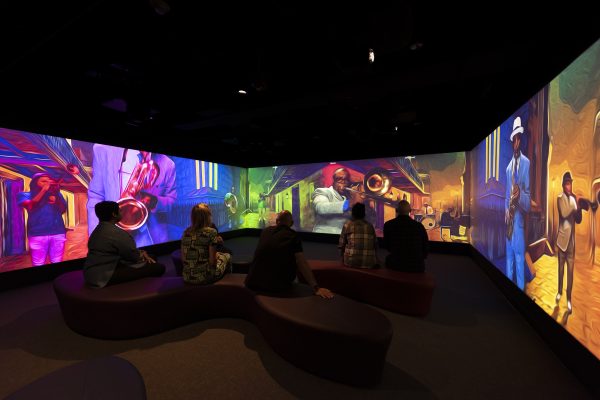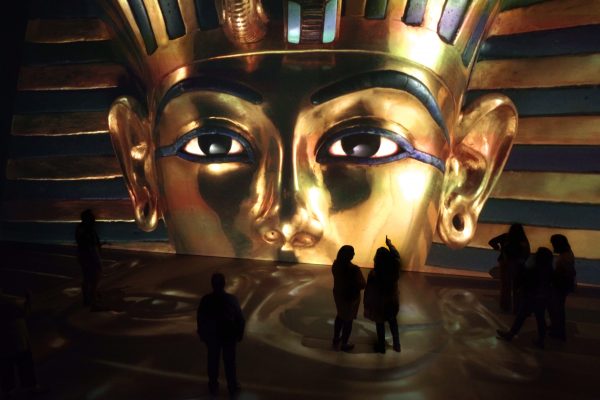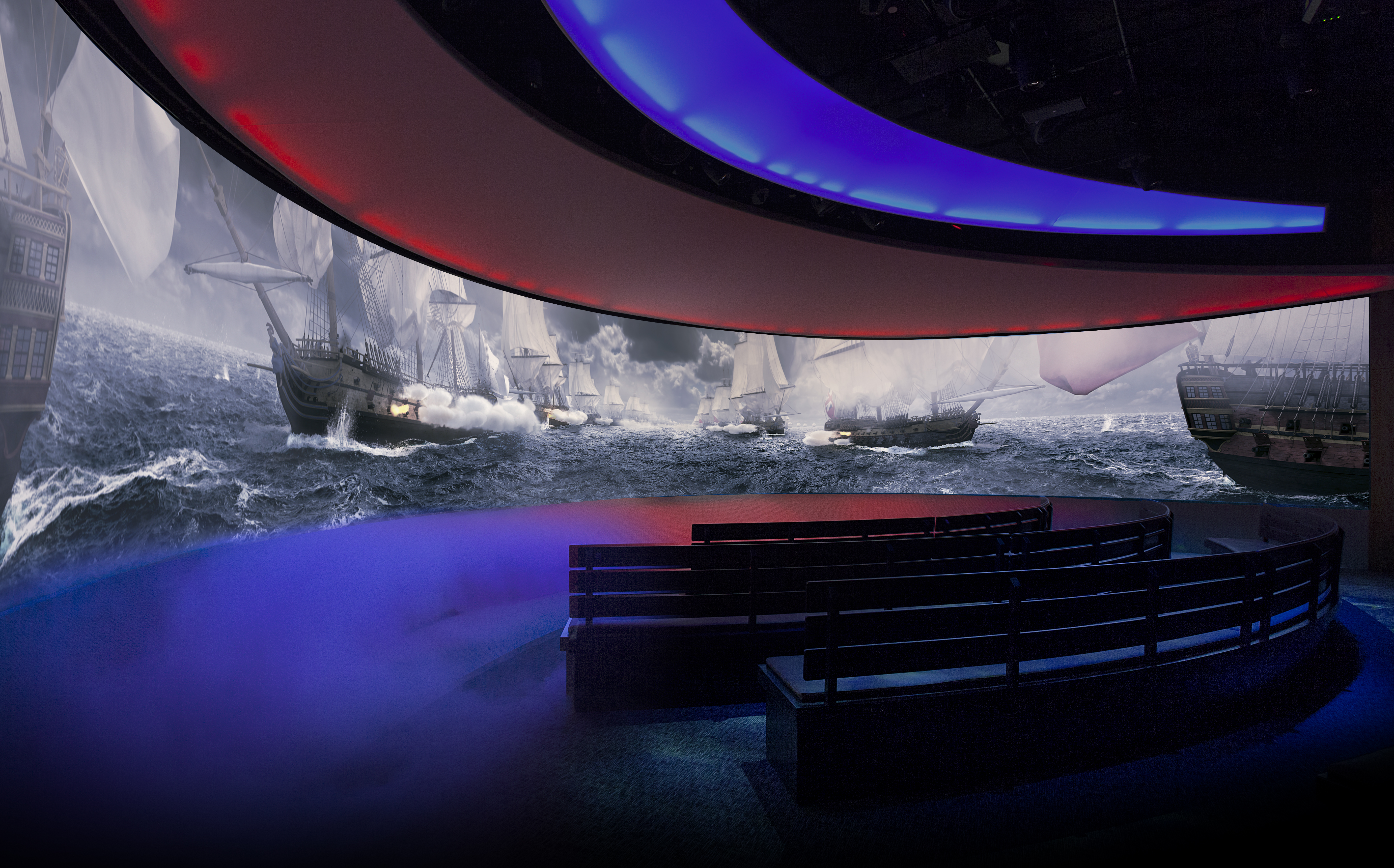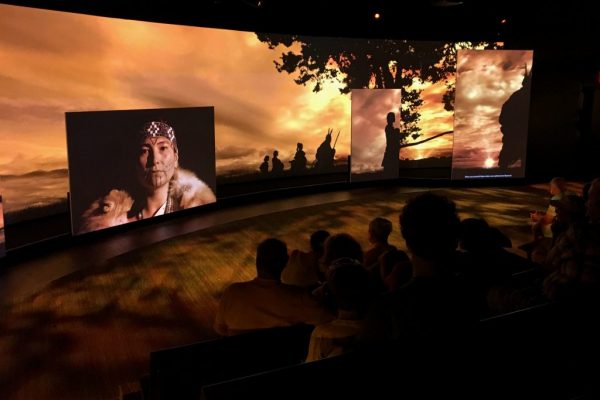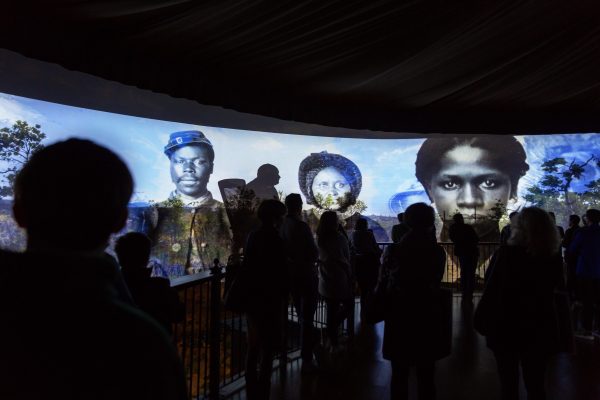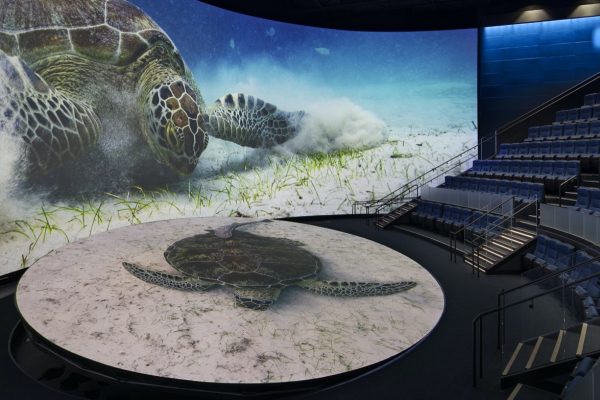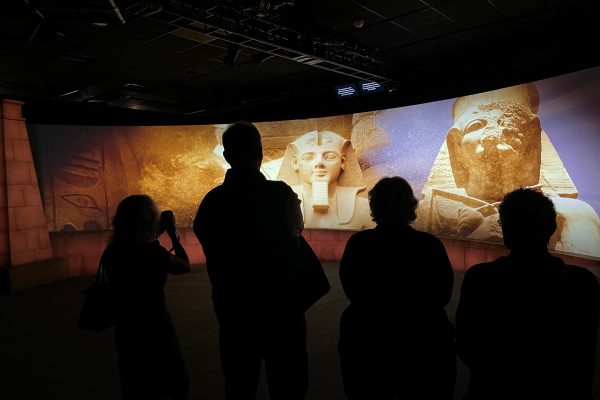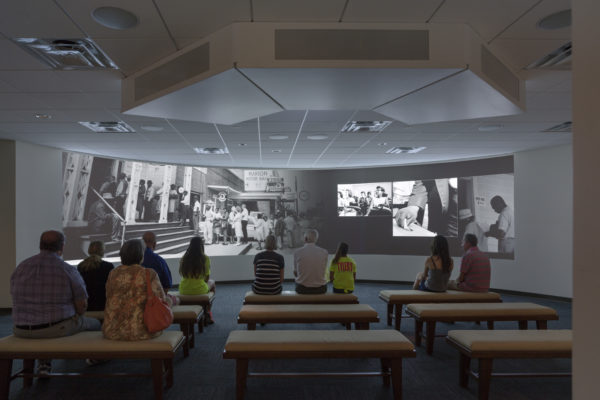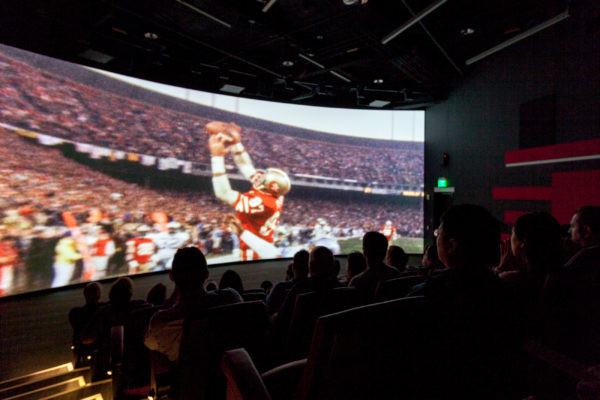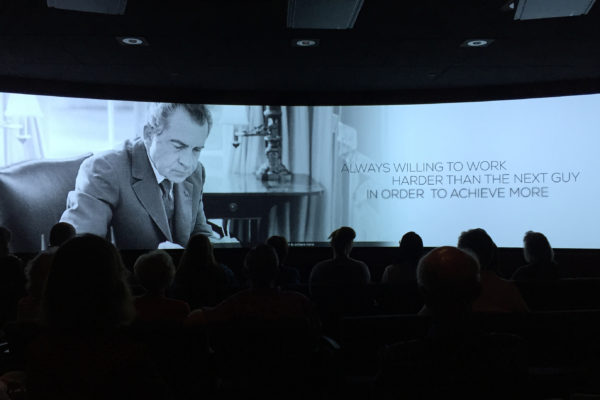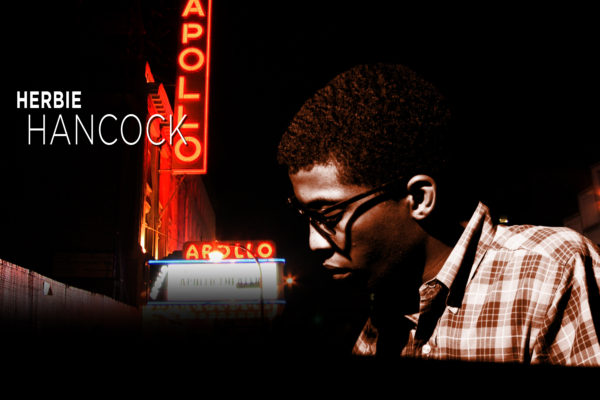 Mobile Apps
One of our mobile apps can enhance a visitor's experience and make all types of educational content possible; such as audio and video tours, multiple language tours, ADA accessible tours, and children's tours. However, the most powerful feature is the content management system controlling the app behind the scenes. The system enables you to quickly and easily update your app content on the fly, allowing you to keep it fresh and up-to-date every day.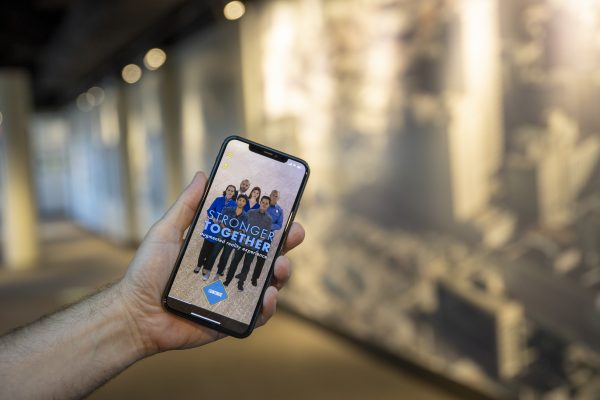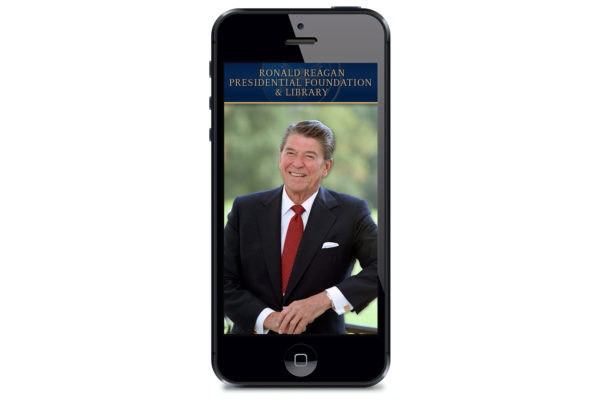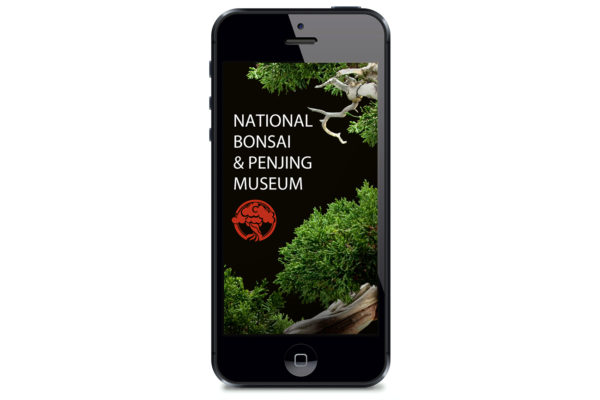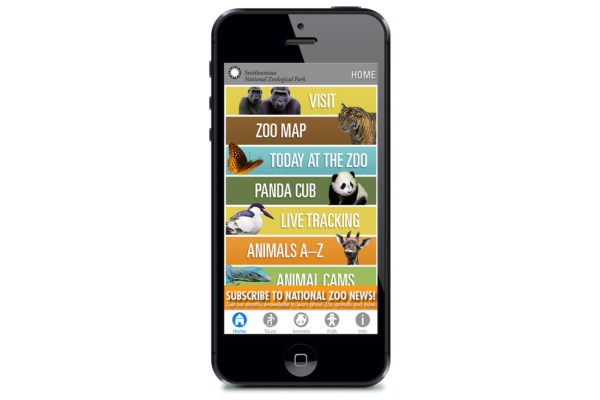 CGI
Our CGI capabilities make recreating history possible. Our tools and techniques allow us to create photo-realistic depictions of places and events that cannot be originally shot. Using a combination of original shooting and CGI techniques such as large-format green screen shooting (both on-location and in the studio) and computer-generated imagery, we can transport an audience to any time and place. From the Newseum's I-Witness 4D, to the WWII Museum's USS Tang submarine experience, to the wreck of La Salle's ship La Belle in the film Shipwrecked for the Bullock Texas State History Museum Theater, to the Battle of the Capes for the new American Revolution Museum at Yorktown, we take audiences through time and space.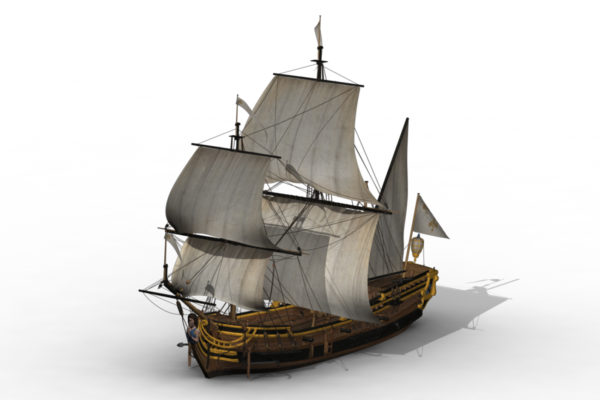 Content Management Systems
Our software platform includes a custom content management system (CMS) created and programmed in ASP.NET by our programming department. The ease and beauty of the system is that it provides you with tremendous control to change and update content and experiences in a simple, nontechnical browser-based control panel. The CMS allows our clients the ability to add new content; edit existing data, including adding or deleting media files, editing content, and editing chapter lists for the associated media files; remove files from being active; delete files permanently; encode media files with one click that allows them to be encoded and published; and sort files and content. The CMS can be utilized for an individual exhibit or can be a comprehensive system that includes multiple exhibits. The CMS also incorporates an analytics system, which allows the client to gather metrics to evaluate the visitor usage of each exhibit.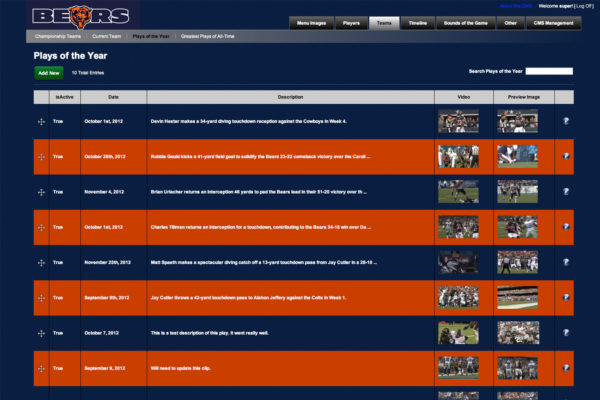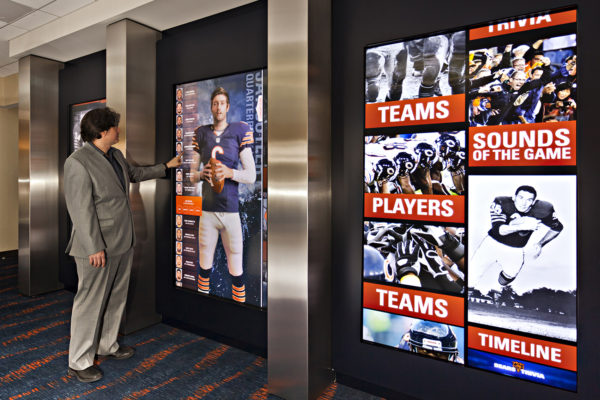 6K, 360, 3D, & 4D
We own and operate two RED Dragon 6K digital cinema cameras. Our signature films consist primarily of large format presentations, 4k to 15k resolutions with multiple projector and screen surfaces. These amazing cameras enable us to shoot original films at the final display resolution or greater. This unparalleled picture quality and resolution ensures a cinematic experience equal to any modern day theatrical release. These technologies help us create a viewing experience that holds up to the critical eye of the modern audience, and ensures a visually stunning product that remains relevant in the face of constantly changing media technologies.
In addition, we own and operate a 3-D dual camera rig for our REDs, as well as two 360 cameras. Our 15k / 360 camera was custom designed and built in collaboration with Chris Meyhew of Vision III Imaging. Consisting of 10 HD cameras, it captures seamless 360-degree live-action images at a final resolution of over 15,000 x 1080 pixels. We have utilized our 360 cameras for interactive exhibits for the College Football Hall of Fame and First Landing State Park, as well as a 360-theater presentation for the National Museum of the U.S. Army.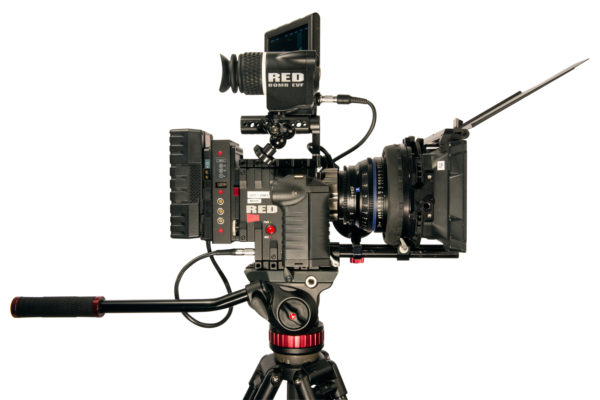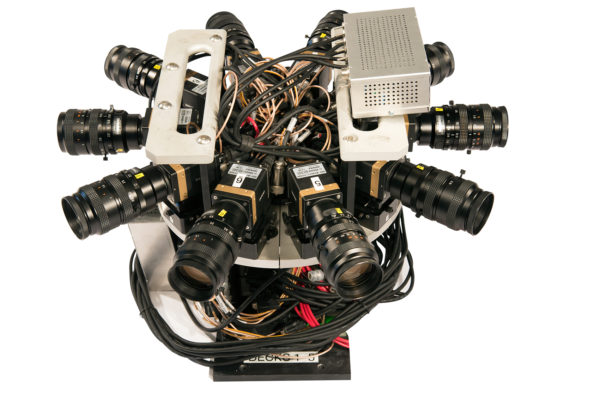 Our Process
Our creative process has been honed to deliver innovative technological avenues for expression. We work closely with you to allow the stories to inspire media design. The media design then develops the experience, and the experience determines the technology we use. While directing the process through design and development we help establish and refine interpretive goals and primary messages. We then work to ensure the media is seamlessly integrated into the architectural and exhibit design. By working with AV systems designers we ensure proper presentation systems are specified for each experience. We user test, install our media on site, adjust color and audio levels, and perform final quality checks in the space to ensure the highest quality of our delivered work.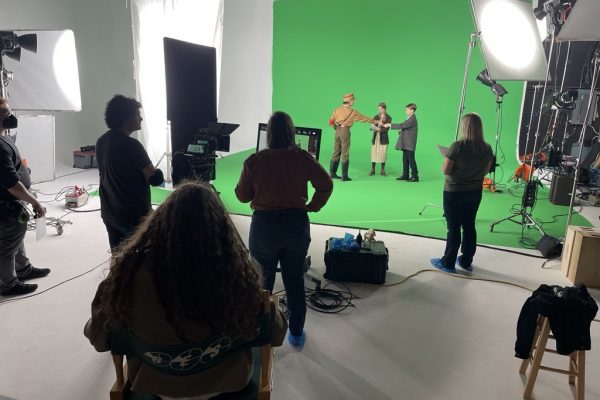 Accessibility
Accessibility is a core business philosophy at Cortina Productions and we strive to make certain all of our media is physically accessible. We achieve this in two ways: through the placement of our content on the screen, as well as the placement of the physical interface within the exhibit space. High contrast colors and large font sizes are additional tools we can use to make sure those with limited sight are able to enjoy our media exhibits.
We open caption every film and interactive we produce. They are a critical part of our filmmaking process, and we approach each open caption with the same aesthetic design standards and attention to detail that we give to every other aspect of the creative process.
We also use mobile apps to deliver ADA accessible content to both hearing impaired and low vision individuals.
For example, our mobile app tour for the George W. Bush Presidential Library includes a visual descriptive audio tour. Each gallery was described in detail to help the visitor get oriented and provide a sense of the area's ambience. These descriptions were blended with the same content and intimate quotes from President and Mrs. Bush that we used in the general audio tour to provide a full experience. The interface was designed in high contrast with white text on a black background to meet low vision accessibility standards. The buttons were located in the same position as an ADA voting poll to minimize confusion.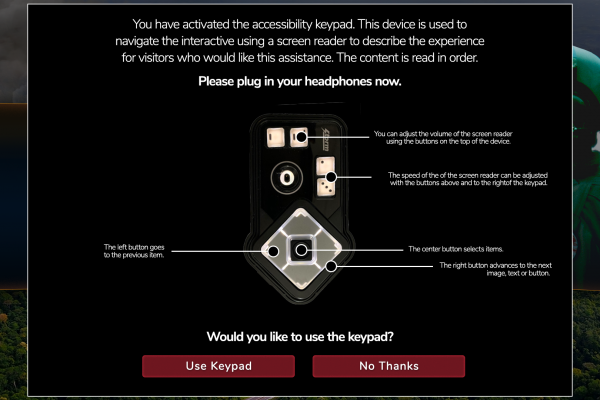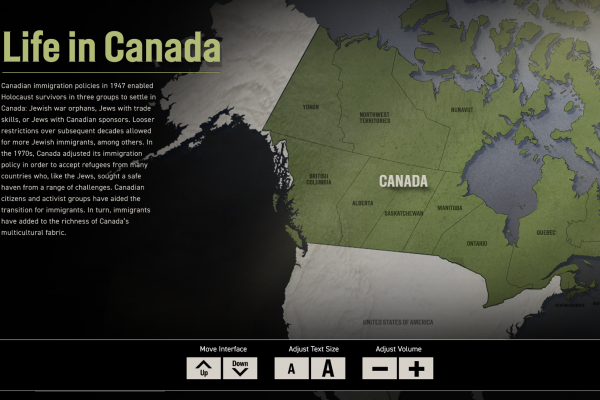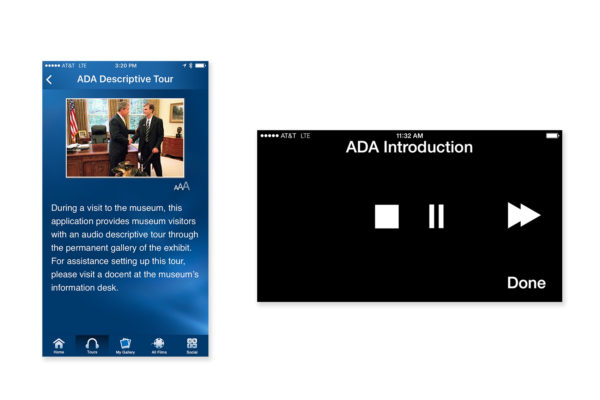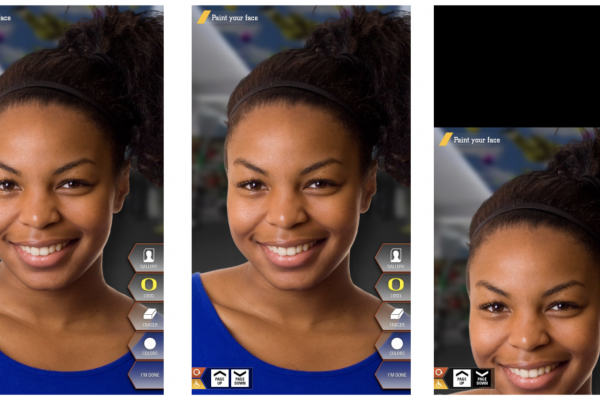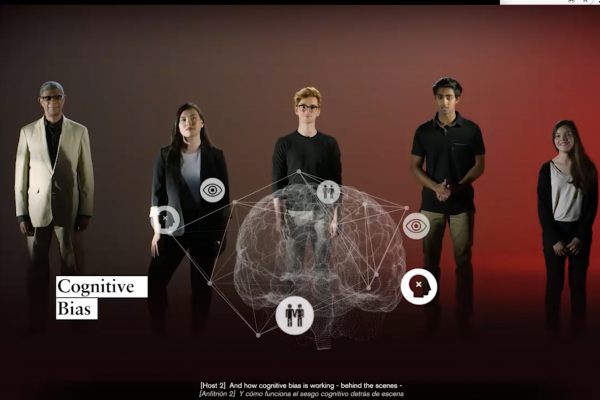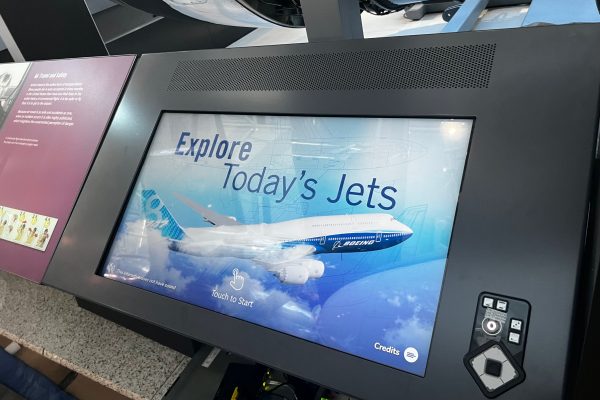 Awards
2021 – SEMC Exhibition Competition – Gold: Museum of the Southern Jewish Experience
2021 – SEMC Technology Competition – Gold: "Community Quilt Interactive" – Museum of the Southern Jewish Experience
2020 – MUSE Award – Silver: "Engine AR" – NASCAR Hall of Fame AR, VR, Mixed Reality Category
2020 – MUSE Award – Merit: "Rotunda Film" – Atlanta History Center Film and Video Category
2019 – SEGD Global Design Award – Merit: "Be Washington: It's Your Turn to Lead" – George Washington's Mount Vernon
2019 – MUSE Award – Gold: "Facial Recognition Personalization Software" – National Soccer Hall of Fame / Research and Innovation
2019 – MUSE Award –  Merit: "Laugh Battle" – National Comedy Center / Onsite Digital Experience
2019 – THEA Award for Outstanding Achievement – "Be Washington: It's Your Turn to Lead" – George Washington's Mount Vernon
2018 – SEMC Technology Competition – Gold: "Be Washington: It's Your Turn to Lead" – George Washington's Mount Vernon
2018 – Science Media Awards – Interactive: "Fisheries Collapse" – Phillip and Patricia Frost Museum of Science
2018 – CINE Golden Eagle Award: "Liberty Fever" – American Revolution Museum at Yorktown
2018 – THEA Award – Smithsonian National Museum of African American History and Culture
2017 – Communication Arts Interactive Competition – "Follow the Green Book" – Smithsonian National Museum of African American History and Culture / Environmental
2017 – THEA Award – Smithsonian National Museum of African American History and Culture
2017 – SEMC Technology Competition – Gold: "Personal Stories of the Revolution" – American Revolution Museum at Yorktown / Gallery Installations
2017 – SEMC Technology Competition – Silver: "Cultural Commons 360° Film" – Smithsonian National Museum of African American History and Culture / Media Production
2017 – SEMC Technology Competition – Bronze: "Turret Theater" – North Carolina Aquarium on Roanoke Island / Media Production
2017 – SEGD Global Design Award – Merit: "The Segregated Lunch Counter and Panorama of the Civil Rights Movement" – Smithsonian National Museum of African American History and Culture / Interactive Experience
2017 – MUSE Award – Gold: "Liberty Fever" – American Revolution Museum at Yorktown / Video, Film, & Computer Animation
2017 – MUSE Award – Gold: "Follow the Green Book" – Smithsonian National Museum of African American History and Culture / Interactive Kiosk
2017 – MUSE Award – Bronze: "Pacific Visions Promo" – Aquarium of the Pacific / Public Outreach
2017 – MUSE Award – Honorable Mention: "Nixon" – Richard Nixon Presidential Library / Video, Film, & Computer Animation
2017 – CINE Golden Eagle Award – Finalist: "Turret Theater" – North Carolina Aquarium on Roanoke Island
2016 – CINE Golden Eagle Award – Finalist: "49ers Forever" – San Francisco 49ers Museum
2015 – MUSE Award – Gold: "Responsibility Theater" – Oklahoma City National Memorial and Museum / Interactive Kiosks
2015 – MUSE Award – Bronze: "All Access Pass" – College Football Hall of Fame / Interpretive Interactive Installations
2014 – MUSE Award – Silver: "A Queer History of Fashion" – Museum at FIT / Digital Communities
2012 – CINE Golden Eagle Award – "Driving America Signature Film" – Henry Ford Museum
2012  – THEA Award – Canada's Sports Hall of Fame
2011 – MUSE Award – Bronze: "GuideCamTM" – Ronald Reagan Presidential Library & Museum / Audio Tours and Podcasts
2011 – MUSE Award – Gold: "Fire Combustion" – Museum of Science and Industry / Interpretive Interactive Installation
2011 – CINE Special Jury Award – "Fantastic Journey" – Museum of Science and Industry
2010 – THEA Award – Science Storms – Museum of Science and Industry
2010 – CINE Golden Eagle Award – "Tornado" – Museum of Science and Industry
2010  – CINE Golden Eagle Award – "Signature Film" – Montreal Canadiens Hall of Fame
2010  – CINE Golden Eagle Award – "Fantastic Journey" – Museum of Science and Industry
2010 – CINE Golden Eagle Award – "Introductory Film" – Jimmy Carter Presidential Library and Museum
2010  – CINE Golden Eagle Award – "Dugout Theater Film" – Kansas City Royals Hall of Fame
2010 – MUSE Award – Bronze: "Waging Peace, Fighting Disease, and Building Hope" Interactive Table – Jimmy Carter Presidential Library and Museum / Interpretive Interactive Installations
2009 – THEA Award for Outstanding Achievement – America I Am: The African American Imprint – Traveling Exhibition
2009 – THEA Award – The Museum at Bethel Woods
2009 – MUSE Award – Gold: "Pylons" – Hall at Patriots Place / Multimedia Installations
2009 – Webby Award Nominee – "State of Deception" – United States Holocaust Memorial Museum
2008 – THEA Award – Newseum
2008 – CINE Golden Eagle Award – "What's News?" – Newseum
2008 – MUSE Award – Silver: "Carmel Church Bone Bed" – Virginia Museum of Natural History / Interactive Kiosks
2008 – MUSE Award – Bronze: "The Woodstock Festival Experience" – Bethel Woods Museum / Multimedia Installations
2007 – MUSE Award – Gold: "Little Boy and the Seven Grandfathers" – Smithsonian National Museum of the American Indian / Video
2007 – MUSE Award – Bronze: "The Greatest" – Muhammad Ali Center / Video
2007 – MUSE Award – Bronze: "Blue Planet Theater" – Gwinnett Environmental and Heritage Center / Multimedia Installation
2007 – THEA Award – "Real-Cost Café" – Monterey Bay Aquarium
2006 – MUSE Award – Silver: "Tidepool Olympics" – Monterey Bay Aquarium / Science
2006 – MUSE Award – Honorable Mention: "Real-Cost Cafe" Monterey Bay Aquarium / Science
2006 – CINE Golden Eagle Award – "If You Can Dream" – Muhammad Ali Center
2006 – CINE Golden Eagle Award – "The Greatest" – Muhammad Ali Center
2005  – CINE Golden Eagle Award – "Little Boy and the Seven Grandfathers" – Smithsonian National Museum of the American Indian
2005 – MUSE Award – Silver: "Whales: Voices in the Sea" – Aquarium of the Pacific / Science
2003 – CINE Golden Eagle Award – "First Life" – Museum 3-D Animation
2003 – CINE Golden Eagle Award – "Ultimate Guide: Pregnancy" – Television Special
2003 – MUSE Award – Bronze: "Make the Call" – Indiana State Museum / Science
2002 – MUSE Award – Gold: "WAR Stories" Videowall – Newseum / Science
2001 – New York Festival Gold Winner – "WAR Stories" Best Multi-image Presentation
2000  – CINE Golden Eagle – "Holocaust: The Untold Story"
2000 – International Monitor Award – "Holocaust: The Untold Story" – Best Documentary
1999 – Monitor Award – "1968: The Year That Changed America" Special Effects
1998 – Best of Show – "What's News" Columbus Film Festival
1998 – Monitor Award – "What's News" – Outstanding Achievement
1996 – EMMY Award – "The Centennial Olympics Games" – Live Special
1993 – Educational Press Award – "Learning for a Lifetime"
1992 – EMMY Award – Games of the XXV Olympiad – Graphic Design
1992 – EMMY Award – Games of the XXV Olympiad – Edited Special
1992 – Silver Medal – Broadcast Designers' Association for Olympic Graphics
1991 – EMMY Award – Tokyo World Championship of Track and Field – Graphic Design
1991 – EMMY Award – Tokyo World Championship of Track and Field – Opens